THE SET UP:
What do you do when you have a great product with the best ingredients, and you're new to the national scene? You follow the lead of the company you're working for. You use the best ingredients, mix them together in the right ratio, stand back and watch the fireworks happen.
THE ACTION:
Wunder Juice went big with social showing their brand pillars of great ingredients, well made and fantastic customer service were both form and function of this NoCo start up. There was a new logo and brand bible. Outdoor, and social played big parts, in expanding their reach, and some well-placed, well-timed earned media spots fueled them to new plateaus. The big hairy, idea of 2016 was Wunder Juice's triumphant run at Super Bowl XL. It was quite the coming out party.
THE PAYOFF:
They went from delivery-only to point-of-purchase, then really blew up. They partnered with places like The Garden Juicery, expanded their product line to an array of juices, frozen goodies and foodstuffs. They built their social footprint by over six hundred percent and expanded their business to other markets across the heartland.
CASE_STUDY_run THE TABLE SPORTS
THE SET UP: When you're launching a new sports website and you want to stand out in a noisy marketplace what do you do? Pick a great talent, work on the fundamentals, find your team chemistry, then the winning takes care of itself. The founders of Run The Table Sports didn't even have a name for the website. They had an idea. Build a team of great journalistic talent, house a flagship weekly sports show and win the day.
THE ACTION: First off they needed a name. So we did what any good team would do. We had 'try-outs". Hundreds of competent options were fielded, but it wasn't until we had RTTS that we had out blue chip standout that could anchor the team. Then it was on to design, and brand anthem. Logo was complicated because you wanted it to speak to all sports without being too busy. You needed spacing and elegance. All the pieces needed to play well together. And it needed to be fresh, yet uniquely iconic. The culture of the show and the site was "smart sports takes without too much of the junk talk". So "Sports Talk That Dominate" was born.
THE PAYOFF: RTTS is a hit. Even in a super-saturated marketplace it's consistently built an audience, tripling in size over the first six months. It's flagship show has been syndicated and picked-up on mega channels like Fox Sports.
CASE_STUDY_"SHERLOCK HOLMES' SMARTER HALF BROTHER"
THE SET UP:
So you've got an original play, written by a hungry new playwright looking to make a big splash at the Edinburgh Fringe, the world's largest theater festival. You've got a little name recognition, a lot of creative talent and a amazing drive. All you need to do is stand out in a crowd of 60,000 performances, but it's theater so money isn't infinite.
What do you do? You go big. And you go small and you go old school and new school.
THE ACTION:
"Holmes" hit Edinburgh with traditional outdoor, nontraditional beer mats, badges, stickers, posters, street teams, earned media and more. A trailer was made, massive state-wide outreach got butts in seats and smiles on faces. And went from a show no one heard of to a sold out hit.
Insta and FB were key components in selling out shows and getting audiences that were over 12 times the average crowd at the Fringe. National newspapers, radio, magazines and a variety of festival-specific publications rounded out a mega-successful effort.
THE PAYOFF:
Sold-out shows, great reviews, profit and new touring opportunities. A strong social presence for gen 2 "Holmes" was established. The Holmes IP increased in value 700% and is still rising. Holmes being developed as an episodic and the published narrative as well.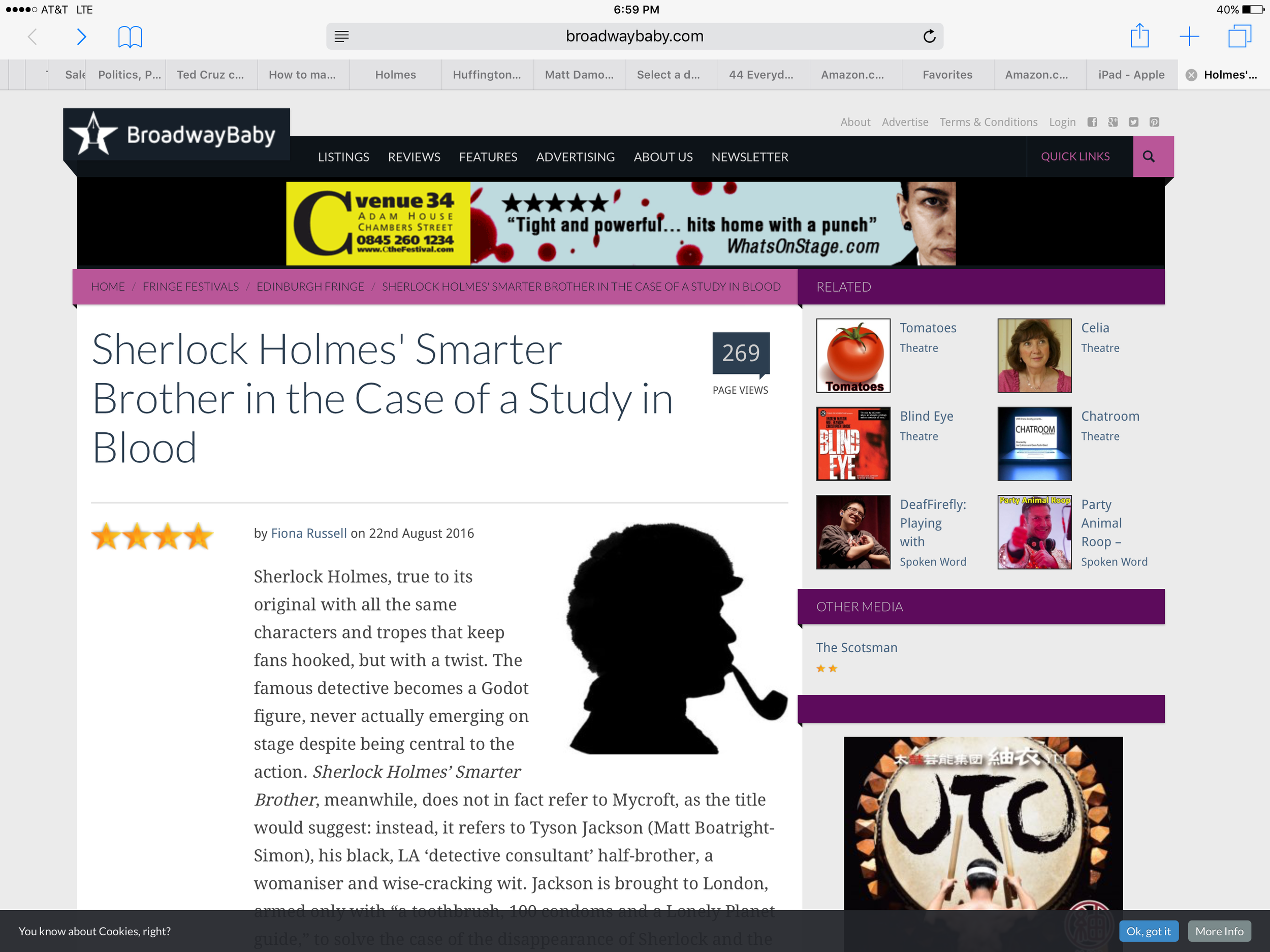 A strong digital and social presence help set the piece apart from most shows that were simply hosted on the venue sites. This social/street hybrid push built momentum over time.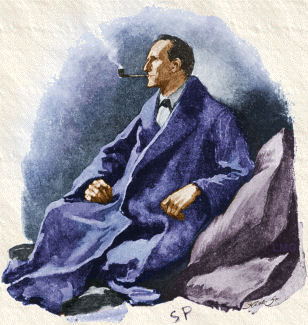 "Sherlock Holmes' Smarter Brother" was a new Holmes work, but needed to be steeped in Sherlockian culture, so form and function demanded a deep dive, dramaturgically speaking. This was the perfect flourish for the website that acted as both reference piece and endorsement of the work.